3 Factors to consider when selecting a CCTV camera lens
20-03-2017 | CCTV Camera,Lens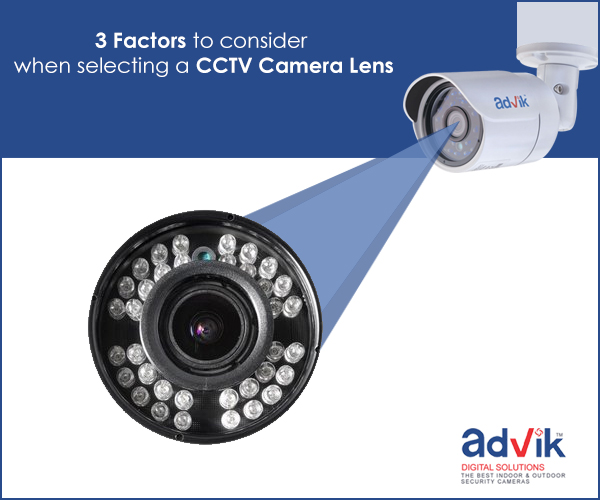 A lens is the heart of any surveillance system. It is essential to consider what kind of security system you'll be installing if you pick a substandard or ineffective lens. A badly chosen lens may is very misleading since the images are not proportionate to the reality, for example; an object may appear farther away or closer than the actual reality. We've all heard of grainy or blurred images. And if your lens does not capture colour details well, a culprit can easily slide out grasp when a red car appears brown in footage.
So then, how do we know what kind of lens is ideal when selecting a CCTV camera? Our experts have come up with this list of 3 essential factors to consider when selecting a CCTV camera lens to help guide you through your dilemma.
1.Depth of Field

It helps in determining the distance at which a camera will stay in best focus. Greater depth of field offers a larger coverage of the entire perimeter, whereas shallow depth of field captures details only within a set range. Shallow depth of filed can also result in blurred images.
2.Focal Length
This determines the size of the image and the angle of field of view captured by the camera. It is crucial in determining the magnification abilities of a camera. A longer focal length captures a narrower area but cover a larger distance, whereas a shorter focal length captures a wider area but compromises on the details of objects further from the camera. It is important to decide the best tradeoff between magnification and field of view.
3. Aperture and Iris

Both of these regulate the amount of light entering a lens. Aperture decides how crisp and clear an image appears, whereas iris ensures optimum and ambient light intensity by changing in size to accommodate the light available various times of the day. Together, they determine the clarity and level of detail of the footage.

These factors influence others and are influenced by other factors in return. It is important to take your requirements into consideration when deciding on the lens and CCTV surveillance system to purchase.

If you have any questions, let us know in the comments and we'll get back to you. You can also book a call back/online enquiry here, and our experts will be happy to help you find the best options for your requirements.