Importance of CCTV Cameras in Hotels
27-03-2017 | CCTV cameras, Hotels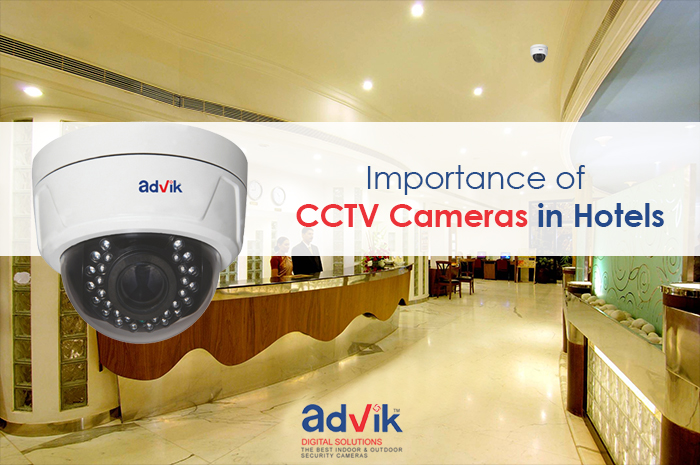 CCTV cameras and surveillance systems have gained popularity and importance in the hotel industry that runs on continuously, 24x7. CCTV surveillance goes a long way in ensuring a safe and secure atmosphere for the hotel guests and staff. In the recent years, there has been an increase in the number of hotels adopting technology to improve their efficiency and a better experience for guests. This ensures guests and their belongings are always are protected. Hoteliers prefer HD CCTV camera since they provide superior image and video quality.
Benefits of CCTV Cameras in Hotels
Hotel CCTV cameras reduce and help to restrict possible intruders from having access to the hotel facilities like the swimming pool, spas, gyms etc.


The surveillance of entrance and exit areas helps to keep trespassers from entering the premises.



CCTV cameras installed in the maintenance and storage rooms are a big support in preventing theft and other unethical activities by employees.




Guests can enjoy peace of mind while they enjoy their stay at the hotel.


Competitors are always offering the best services and facilities to guests. It therefore, becomes essential to ensure you don't lose any competitive edge and are at par with the industry norms.



Easy to install and monitor surveillance systems with remote access facilities and mobile alerts make these technological advancements an added bonus to your enterprise and business.


Flexibility and freedom to keep an eye on your business from anywhere in the world opens up more business opportunities for you to explore. You don't have to be restricted your travelling around seasonal bookings or postpone a business meeting since you have the option of remote control and cloud storage.


CCTV surveillance can come in handy to provide data for smart analytic that can predict the patterns and guest traffic so that you can prepare in advance.

Key areas to consider when installing CCTVs in a Hotel
Entrance and exits, including service elevators, staff entryways, kitchen/pantry loading/unloading areas.


Lobbies, meeting areas and reception.


Exclusive guest areas like swimming pools, spas, restaurants, gyms etc. Privacy masking features should be considered for these areas


Corridors, lift and elevator areas, luggage and maintenance elevators.


Staff lockers, kitchens, laundry/housekeeping area.


Perimeter and outdoors like in gardens, golf course, tennis courts etc. Outdoor cameras should be opted with a minimum of IP66 rating to ensure they are weatherproof and provide good quality images.

Cameras installed should be considered in a manner that does not invade privacy of guests in any manner while ensuring they feel safe at all times. If you have any question about CCTV cameras best suited to Hotels, book a call or enquire from our experts here.