How to Troubleshoot a Pan Tilt Zoom (PTZ) Camera
17-07-2017 | PTZ, CCTV Camera, Troubleshoot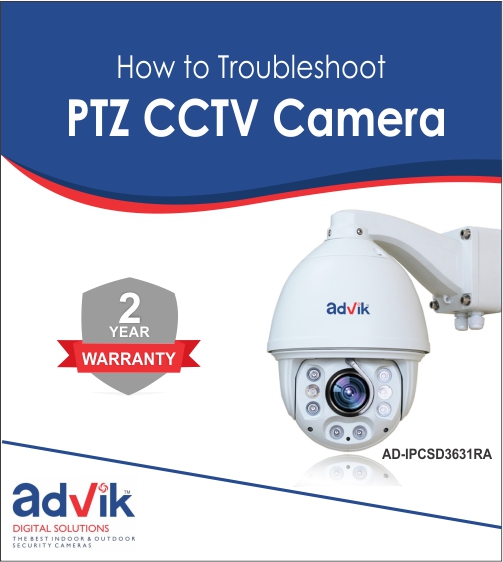 PTZ stands for Pan Tilt Zoom. The ability to move the camera lens in the horizontal and vertical axes makes this CCTV camera a favourite among users. However, despite the advantage of having a camera that is not limited to one specific location and position, its effectiveness depends on its proper installation and consequent troubleshooting in the event of any functioning problems. Here are some of the common solutions to troubleshoot a PTZ CCTV camera.
1. Check the power supply. PTZ CCTV cameras come in various models and forms. It is important to use the power supply that comes with the particular camera being installed since some use a 12V power supply while others may use 24V power supply. When replaces an old power supply cable, make sure the replacement is an exact match in terms of specifications to the original one.
2. Always keep the power supply as close to the camera as possible. When the power supply is very far, approximately 50 feet or more, from the camera, the CCTV camera may face a power drop in amperage and voltage causing the camera to malfunction or worse, cease working altogether. If it is unavoidable, use a 14AWG wire, which is sufficiently thick to carry the power required by a PTZ camera to function properly.
3. Check the data connection of the PTZ CCTV camera. Start by checking the connection is intact at the back of the DVR/NVR. Next, ensure the baud rate, protocol, and ID (address) configurations of the PTZ CCTV camera match those in the settings of the DVR. If there is any disparity, change the settings accordingly and save the changes. The PTZ camera should now function properly.
These settings seldom need any changes unless the DVR is restored to its default/factory settings or the PTZ CCTV camera is used on a different DVR. Note: If the cables seem to be connected properly and the devices are configured appropriately but the PTZ CCTV camera continues malfunctioning, it is advisable to consult a professional with technical knowledge. Click here to consult our technicians. If you are considering investing in PTZ CCTV cameras, don't let these additional setup and configuration steps bother you. The advantages and features of PTZ CCTV cameras far outweigh these one-time installation procedures.
Comments