6 Factors to look in a security camera for construction site
13-05-2016 | Security Camera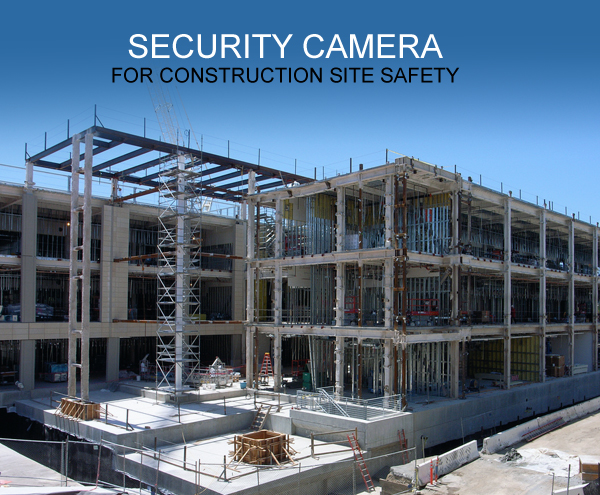 Construction sites have its own security issues that may or may not be similar to other workplaces. They may face issues like vandalism, conflicts between workers or labor staff, theft of construction materials, issues with delivery of raw material and so on. The security and smooth functioning of the work are necessary for the projects to be completed on time. The security camera plays a vital role in achieving the goal. Let us see what we need to look into the security camera for construction site:

Weather resistant :
The construction site has more adverse conditions for a security camera to perform than at any other location. Therefore, they must be capable of handling heavy dust, dirt, the jet stream of water, gravels and so on. Prefer camera with IP66 or above protection grade when you look for one.
The security camera installed at construction sites must be capable of performing in every light situation. They must be loaded with night vision feature so that they can record clearly even at the situation when the light support is minimum.
The construction sites usually cover a wider range. The security camera for such sites must be able to cover a wider area. Prefer PTZ range of cameras for all round protection. The PTZ or pan-tilt-zoom camera allows the user to watch the functioning from any angle remotely.
It is not necessary for the contractor to be present on the site all the time for security. The security camera must be capable of being accessed from smartphones or laptops so that the contractor and the project owners can keep an eye on the site from their office. Again the PTZ camera suits best for the category.
Easy installation and removal :
The installation of the security camera at a construction site is not permanent. They should be easy to install and remove once the project is completed.
It is not necessary that every site has the same requirements or same working conditions. The security camera for construction sites is available with the customised option with Advik. The customized option gives you freedom to specify the range you want to cover from the camera. You can modify the camera specification as per the size of the construction site and your requirements so that you can get the best performance.
To know more about the custom option or if you are looking for the same for your site then take the expert advice from our expert team of advik security camera just filling the online inquiry support form at the top right of this page ,or you can call on our tollfree no given above, so that the experts from advik can get back to you with best of the option for your need.