4 Reasons to invest in security camera in corporate office
03-04-2017 | Security camera, Corporate office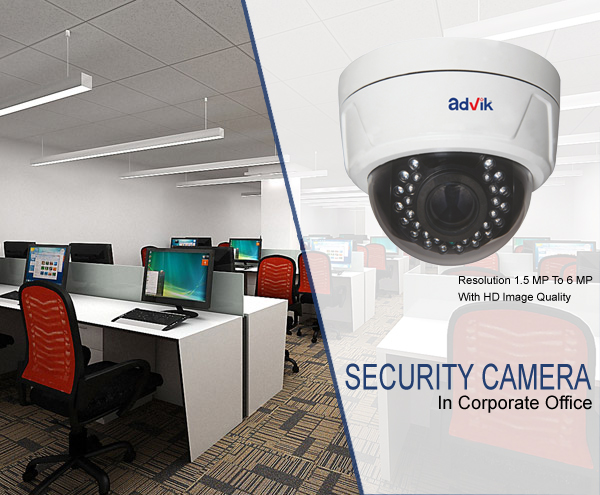 The security camera in corporate office plays an important role in giving a safer workplace. Corporates have to make sure that the employees are safe from jobsite injuries, conflicts, theft, inappropriate allegations, and the proper behavior is maintained. They need to have a secured premises and parking lots for the safety of workers and their vehicles. In brief, there are multifold advantages of the security camera in the corporate offices which can't be overlooked.

1. Protection of the premises:

Corporates have to cover the premises from theft and other illegal break-ins. They need to make sure that only the approved guest is allowed to move in the premises and his movements are watched and followed. Protecting the office with video surveillance plays an extremely important role in enhancing operations and counteracting criminal acts. Also, the corporate office usually have a heavy amount of computer systems and other valuable assets which need to be protected from theft. They 1can help you in protecting the assets and track its movement within the premises. Any unethical act can be traced and caught before the loss actually happens. They can even cover business premises from damage or destruction. Utilizing HD cameras for facial recognition in a vandal prone area, the office e can be protected from any harm.
2. Remote monitoring:
You can depend on remote security professionals to monitor your system live and respond quickly to any act on your site. You can keep a check on the movements of the staff and keep an eye on the unreliable workers. This permits you to oversee work floor developments, employee activities and streamline work process during working hours.

3. Employee security:

Employee safety is extremely important for any business. To make sure that the things are going according to compliance and the employees are protected the security camera plays a very important role. The unethical acts of fellow workers or the seniors are tracked on the security camera helps taking up those events seriously. The recording helps in tracking chances of theft of employees' mobile phones, tablets, iPods, laptops or anything of such sort. The thought of being caught red handed can force the employees and working staff to be on proper ethical behavior.

4. Safety in the parking lot:
Many of the organizations give transport or employees utilize their own conveyance to reach to the workplace. The security of the vehicles is also extremely important for the business. The video surveillance camera with HD picture quality at the parking lots and exits can check possible harm to vehicles, giving a sense of security to the vehicle owners. These are some of the advantages you can get from introducing the security camera in corporate office. After ensuring that your premises, assets and employees are protected, you can focus on other critical decisions for enhancing the business.And at the same time you can maintain the decorum of the offices to give the feeling of safe and secured environment.