10 Important features to check before buying a Video Door Phone
15-05-2017 | Video Door Phones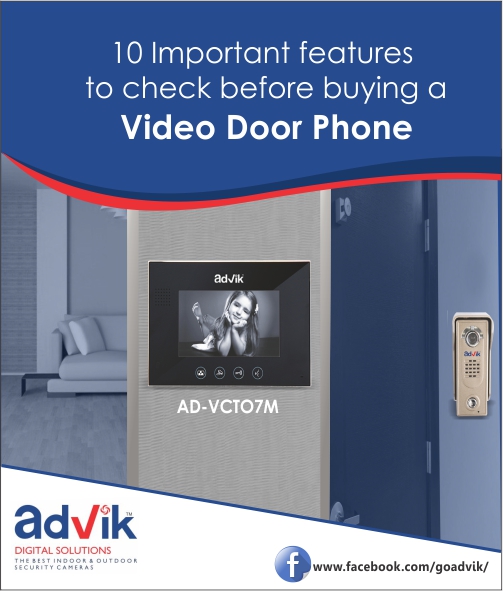 With increase in crime rates, everyone is vigilant about the safety and security of their homes and their loved ones. Video door phones empower your loved ones to protect themselves and your home from intruders. But how do you know which video door phone to purchase? Here's a list of important features you must check before buying a video door phone:

1. Touch screens – These make for a very user friendly interface and are stylish too. They are easy to use and allow for effortless operating.

2. Do not disturb – Want to sleep in or do work without any disturbances? This feature allows you to keep visitors away for a set period of time.

3. Night vision – Almost all video door phones have inbuilt night vision, which allows you to view your visitors even in low light. A simple solution for round the clock protection.

4. Capture images – Video door phones now capture images of your visitors. You can use these images for future visits and record keeping.

5. Storage – Look for a video door phone that either has a high storage in terms of number of photos or at least allows you to expand the existing storage using a micro SD card. The video footage and images are stored on this memory and thus it is very important to consider the number of visitors and frequency of visits expected when deciding on which video door phone to purchase.

6. Digitized and compatibility – With increased interest in security operations, video door phones have evolved so that now they can be connected to your CCTV surveillance systems. Check to ensure your video door phone is compatible with your security systems.

7. Hands free calls – If you want to avoid wires and allow free movement, get a video door phone with hands free calls feature. Also check whether it can record calls for record keeping, if required.

8. Remote access – This allows you to grant access to visitors without coming to the door physically.

9. Extra screens – If you want the freedom to view your visitors from any room in your home, you'll want to check whether the company allows you to purchase extra screens. You can simply buzz in a visitor from the comfort of your bedroom.

10. Protective strong body – Since the outdoor unit will have to endure all weather conditions, it is important to check whether it has the appropriate IP rating.

(Find out the importance of IP rating here.)

Still have any questions? Share them with us in the comment section below and our experts will be glad to help you out.

Comments