7 Reasons to buy PTZ CCTV Cameras
24-04-2017 | CCTV cameras, PTZ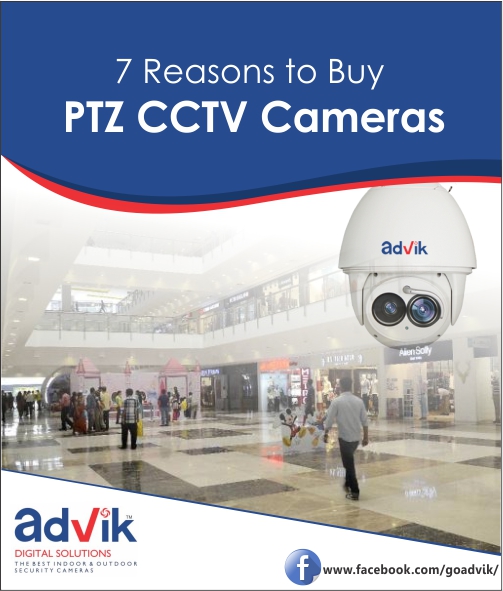 PTZ (Pan/Tilt/Zoom) CCTV cameras provide many benefits over the standard stationary security surveillance cameras. From field of view to flexibility of rotation, we give you 7 of reasons to why PTZ CCTV cameras should be on your security team.
1. Field of view

A well placed PTZ camera can provide a full 360 degree coverage area. Based on the viewing angle, both pan and tilt can be pre-programmed to cover large areas with fewer number of PTZ cameras. This allows you to install CCTV cameras in locations like parking lots that would otherwise require larger number of cameras. This helps you minimize the costs while enjoying optimal level of protection.

2. Motion detection

Most PTZ Cameras come with an inbuilt motion detection that tracks any movement, whether it is of a person or an object. The camera will automatically pan, tilt or zoom to track the person or object as it moves. This will prove beneficial and provide evidence in the event of any theft or vandalism on your premises.

3. Weatherproof

Outdoor Pan Tilt Zoom cameras are designed to withstand even the harshest of nature's elements. They are built with a strong exterior casing with IP ratings that are ideal for outdoor surveillance. Wind, rain, dust and even extreme heat do not affect its efficiency or performance. They are best suited for just about any location including rooftops and on the sides of buildings.

4. Power of zoom

PTZ cameras are equipped to provide upto 40 x zoom. This allows you to capture clear images of any person or object at a distance, making this an ideal partner for security surveillance of areas like parking lots and shopping malls. The best part is with this zoom feature you can carry out surveillance and remain discreet.

5. Auto Focus

This feature allows PTZ cameras to quickly focus and capture clear images even when the target is moving or the area has poor lighting. It is definitely one budget friendly feature you want on your security team.

6. High Definition

Advik offers a variety of PTZ cameras with HD resolution. These cameras provide superior quality images and surveillance footage.
7. Easy to install

Since you require fewer cameras to cover large areas, you not only spend less on purchasing the CCTV cameras but also save on the time, labour and money spent on installing your security surveillance system.

In the interest of helping solve buying dilemma, share your opinions, questions and feedback with us in the comment section below and we'll be sure to address it.