5 Reasons to Buy Surveillance Hard Disk Drives
12-06-2017 | Surveillance HDD, CCTV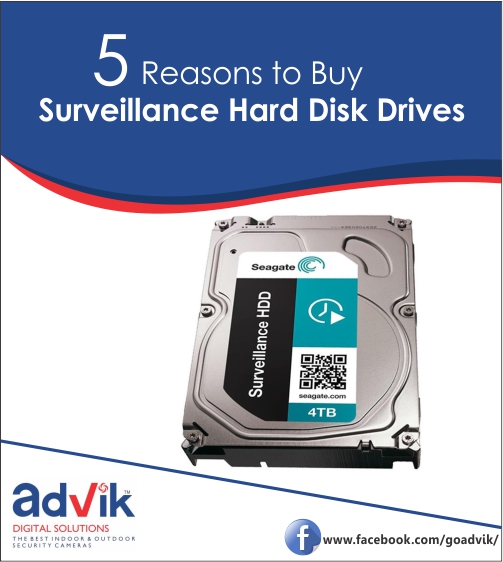 There are numerous storage drives available for various purposes in the market. Consequently, users find it difficult to choose which to opt. It is the engineering of the drive of the makes all the difference when making a decision. In surveillance, the normal hard drives are preferred. Surveillance HDD is especially designed for CCTVs. While it looks similar to other drives, it is a superior choice with optimizations and features that are developed especially for surveillance. Further, it can easily be connected like other HDDs in the DVR of any surveillance setup.
Advantages of Surveillance Drives

1. They are designed for high write workloads. Normal drives are engineered for storage. They perform data transfer in addition to their read and write capabilities. On the other hand, surveillance drives are tuned so that 90% of its time all year round, that is to say 24x7x365 days, is dedicated to recording video and balance 10% is for review and play back of data.

2. Video and surveillance HDDs support video streaming software that are designed and built with write function. These come with enhanced write functionality that ensures supreme performance. This has the added advantage of better drive durability for DVR, media center or video security applications. The surveillance HDDs software is custom built to stream videos thus is captures every last detail with detailed pixels when streaming HD videos.

3. They are reliable. Normal drives neither come with the ability to withstand constant operational demands, nor do they include the application specific features that are necessary to handle surveillance in various environments. Whereas surveillance HDDs are built with the capacity to record data round the clock, that is to say 24×7, and that too from multiple camera streams or channels.

4. Surveillance hard disk drives offer low power profiles, which are not only helpful with energy conservation but it also ensure cool and optimum operating temperatures that enhances system reliability while working a 24×7 profile.

5. Cost always plays an important role in buying decision. Since video drives are made especially for surveillance environments, it is usually misconceived that they cost higher. This couldn't be further from the truth. The difference in the prices is only minor in lieu of the capabilities and functions it offers.
Comments